ABOUT
"What are the conditions that allow for the expression of our true self? "
​   
"Dialogue should be used when individuals or groups have different perspectives and see issues differently.  

Only from a common understanding can change and resolution grow."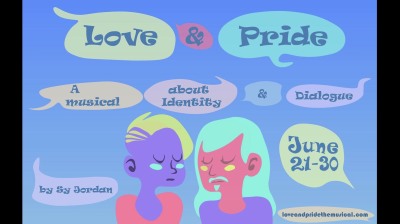 LOVE & PRIDE is an innovative new musical about identity and dialogue.  It features six characters who identify at different points along the spectrums of gender, sex and sexuality, and the conflicts that arise within themselves and with their relationships, due to those identities.

This play is full of drama, heartfelt stories, and hilarious comedy.  The music and dance numbers span the genres of pop, rock, jazz, reggaeton and more.  This is a musical unlike any other...and a show you do not want to miss!
Book, Lyrics & Music by: Syren Bocalbos Jordan
Music Produced by: Erik Wilson

ABOUT THE PLAYWRIGHT & COMPOSER: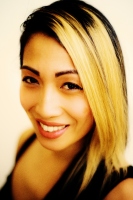 Syren Bocalbos Jordan is recent graduate of UC Berkeley, who double majored in Gender & Women's studies and Theater & Performance Studies, with a minor in Music.

She has been a musician all of her life, and has been the lead singer of several bands ranging from pop, to rock to electronic music.  She worked as a fitness instructor for over 8 years, where she taught kickboxing, yoga, and hip hop dance.  Also working as the director and choreographer for Love & Pride, this project is the culmination of her passions for music, theater and dance, her fascination with gender, sexuality and relationships, and her desire to fight for social justice.

FROM SYREN:

    "The topics of gender and sexuality have seen significant shifts in mainstream U.S. culture in the last few years, and in unprecedented ways.  
While this undoubtedly signifies progress towards inclusiveness and equality for those who identify and/or are marked as queer, there are still many misconceptions about both gender and sexuality.  There are still many people who do not understand the differences between gender, sexuality, and sex.  The diverse communities within each category are often imagined as a homogenous group, and continue to be viewed within the rigid binaries of male/female and gay/straight.  More pressing is that inequality, prejudice, and violence against transgender and nonconforming individuals are still prevalent in the U.S.
     I wrote Love & Pride as a musical because I wanted to explore these issues intelligently, respectfully, and artfully, through the power of critical dialogue and great songs.  
I initially wrote this play because I wanted to give visibility to queer narratives and create roles for queer artists.  To honor the identities I aimed to represent, I conducted as many interviews as I could, with people who occupy those identities, and based the narratives of my characters on those lived experiences. As I completed writing parts of the play, I held public workshops at schools and various LGBT+ organizations to present the scenes and songs, and got feedback from the community.  A beautiful and unexpected by-product of all my interviews and workshops was that these meetings created spaces for healing, community and dialogue  - and I decided that this is how theater-making should be!
     While this play centers on the topics of gender and sexuality, it is ultimately about the universal themes of finding your true self and learning to love others for who they truly are.  My hopes for this project that it fosters dialgoue about complex and controversial topics, and creates awareness for marginalized communities - so that we can all relate to the struggles and joys of love, and be proud of that love, no matter how we identify."